For Earth Week 2021, Oceanic Global hosted Ancient Wisdom and the Ocean—a virtual gathering, supported by Aspiration, which amplified traditional, indigenous, and local knowledge from around the world & the importance of blending it with modern science to create holistic, long-term solutions for protecting our blue planet.
The gathering was hosted by actress and activist Nathalie Kelley and included four discussion circles—led by global community leaders, field experts, and representatives from Seeding Sovereignty, Eco Resolution, and the United Nations Division of Law and the Sea—across the themes: protecting marine areas, fisheries, climate resiliency, and oceanic biodiversity.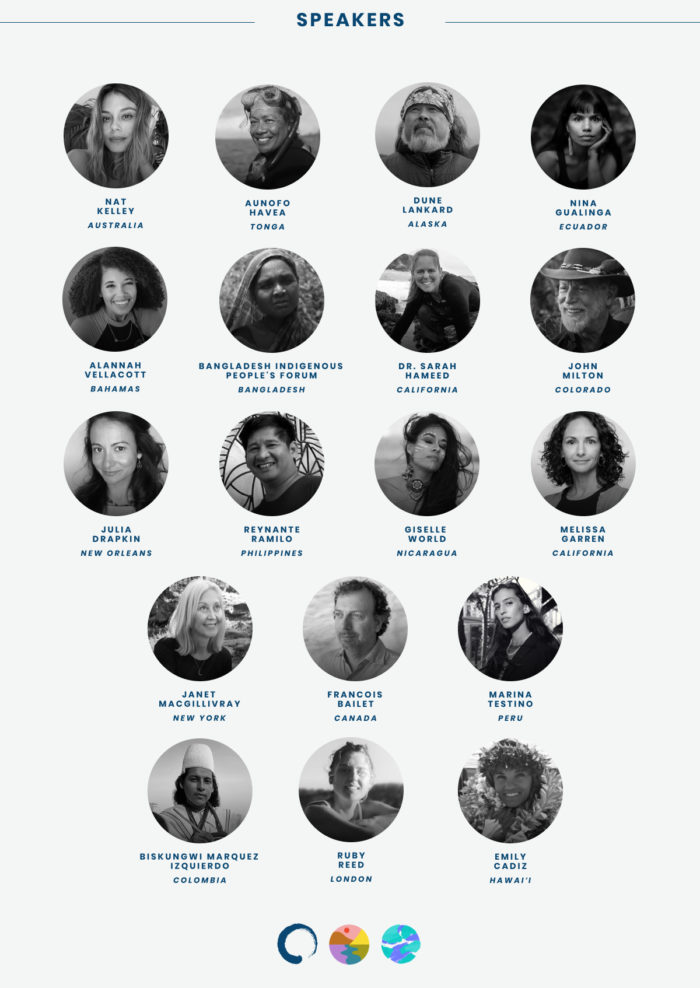 As a small non-profit, we rely on donations to make our work possible. We're proud to be partnering with Aspiration on this event—a new kind of financial partner that puts people and the planet first.
Sign-up for an account in just a few minutes at aspiration.com/oceans, and Aspiration will donate $25 USD directly to Oceanic Global
Not in the U.S. but still wish to donate? DONATE HERE
Host: Nat Kelley
Sacred Water Ceremony
Biskungwi Marquez Izquierdo & Guneymaku Izquierdo Marquez from the Wintukwa Community of the Arhuacos (Colombia)
Aunofo Havea
Spotlight on the Mundas People in the Sundarban region of Bangladesh
Dune Lankard
Spotlight on the Tagbanwa People in Palawan, Philippines
Emily Cadiz
Marina Testino
Nina Gualinga
John Milton
Ecologist & Spiritual Teacher
Giselle World

CLIMATE RESILIENCY
Julia Drapkin
Ruby Reed
---
OCEANIC BIODIVERSITY
Alannah Vellacott
Janet MacGillivray
---
PROTECTING MARINE AREAS
Dr. Sarah Hameed
Francois Bailet
---
FISHERIES
Melissa Garren
Films
Literature